Okay so I blogged about a few Gray Whales a while back, now I'd like to blog about White Whales. The kind of cards that you might see in your lifetime once, never mind actually own them.
A Captured Freed White Whale
Now, a genuine white whale list for me would consist entirely of Luis Torrens cards, so here's the catch, I've omitted all Luis Torrens cards from this white whale list.
05. 2008 Bowman Chrome Jesus Montero 1st Bowman Autograph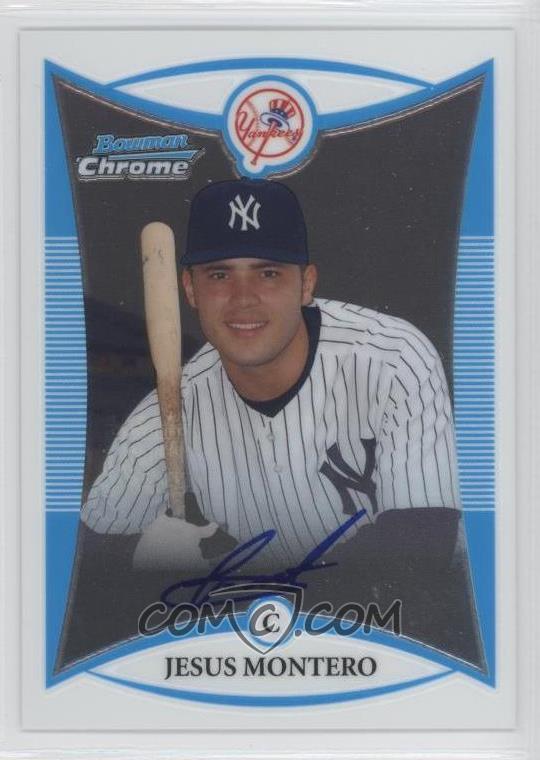 Scan Courtesy of COMC
Technically this is a gray whale but considering how expensive Montero's first BoChro autos still are it's in white whale territory. Investors are still praying for Jesus to be their financial savior. And hey, he was selected for the triple-A All Star Game this year and was even called up to the big leagues not long after, so there's still hope. I guess.
In a lot of ways I'm struggling to know whether or not I just want this out of obligation as a Yankees prospect nut/Yankees Bowman prospects collector. I mean when I
just
got into baseball Montero was shipped out to Seattle five minutes later. I don't have an attachment to Montero like most fans (like
The Lost Collector
) did. And yet, there's still something about Montero that's appealing to me. Maybe it's all of the Jesus puns or the allure of a former Yankees top prospect but my collection can't help but feel incomplete without this card (as well as gray whales like Dioner Navarro and Austin Romine's first BoChro autos) in it. However, the (still) two digit price tags on these base autos propels this card into white whale territory.
04. 2012 Bowman Chrome Dellin Betances RC Orange Refractor Autograph
Remember when I said I bought into Betances when his value was at an all time low? Well during the process I managed to get my hands on a semi-rainbow of his 2012 Bowman Chrome RC auto. I obtained the red, gold, blue, refractor and base. I came VERY close to obtaining the orange but missed out. Which was BAAAAD because then Betances had to turn into the greatest reliever the MLB has ever seen since Mariano Rivera. These orange ref autos went for less than $15 in the past. Now you'd be hard pressed to find them for less than three digits. As for the superfractor, well...
03. 2012 Bowman Chrome Dellin Betances RC Superfractor Autograph
Somebody actually sent me a link to this card way back in 2012 when it was up on eBay for a BIN of like $130-something. Unfortunately I was living in Japan at the time and hadn't yet set up a Paypal or eBay account so all I could do was watch that super auto get snatched up by somebody else. $130-something is a price I gladly would've paid (even back then) if I had the chance. Unfortunately I didn't get the chance, and the next time I do get it (if I get it at all), it'll cost me A LOT more than $130-something.
02. 2009 Bowman Sterling Francisco Cervelli & Buster Posey Dual Autograph
In a perfect world I can say I have a Francisco Cervelli autograph from 2009 Bowman Sterling. Unfortunately in this world he just
HAD
to be paired up with Buster freaking Posey. There were times when the prices for these almost looked "reasonable" but as these past few years have shown nothing is ever reasonable when the Giants are involved so no Sterling auto of the Great Gazoo for my collection :(. Although to be fair I suppose my vision is skewed because I got such a great deal for my Dellin Betances & Clayton Kershaw dual auto. I've been spoiled!
01. 2013 Bowman Chrome Luis Torrens 1st Bowman Superfractor Autograph
Per LT's Facebook
At the beginning of this post I said Luis Torrens cards were omitted from this list. WELL I LIED!
As always it comes back to Luis Torrens and his superfractor auto. A superfractor autograph of your PC guy's first ever Bowman Chrome card is
the
card to get. Bar none. I had a chance once but I didn't have the funds to pay the guy who obviously tried to make a quick buck and charge way more than the card is actually worth. Hopefully when the card resurfaces I'll have secured enough money to immediately swoop in and buy it for that four digit price tag right then and there without any second thoughts. I'll just have to spend my life leading up to that point making sure that I don't do something stupid like take on responsibilities that cost a lot of money like getting married or having children or getting a mortgage. No more having fun either. That costs money, especially in New York.
Honorable Mention:
2010 Topps 206 Original-Cut Signature Booklet #BC6 Willie Keeler
The only honorable mention I'll list is one I'm 99.9% sure I'll never own. Back in 2010 when Topps 206 hit the shelves the BEST (bar none) hit you could've pulled were these 1/1 booklet cards with both a cut autograph of an original T206 subject AND an authentic T206 of that original subject. And these subjects weren't just common no names, it had Mordecai Brown, Kid Elberfeld, Ty Cobb, Johnny Evers, some other legends and the one I would've wanted, New York Highlanders great Wee Willie Keeler.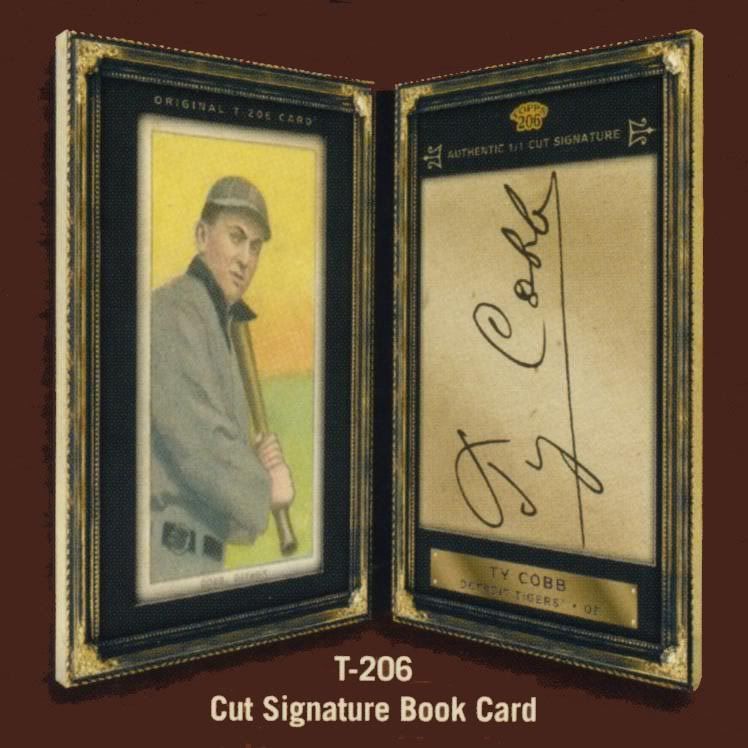 They looked like this
I'm not sure if the Keeler was ever pulled but if it was I'm sure it was one heck of a card, I've heard that these are absolutely gorgeous in person.
-
So those were my white whales. I kind of stayed away from cliche picks like the 1952 Mickey Mantle or any of the Goudy Babe Ruths or Lou Gehrigs because, well, they'd be cool cards to have but don't have much of a place in my collection. Not in my Yankees prospect PC or in my Highlanders PC. I'd just either sell them or send them to TLC to give him a heart attack.
I would ask you if you have any white whales, but I'm sure many of you have already blogged about them before. But if you haven't or don't have a blog, I'd love to hear them.
As always thanks for stopping by and take care :).