During my time as a baseball card collector there have been numerous cards I "wanted" but didn't really feel like forking over the money to get.
I surprisingly bought this one
I'm sure we've all been there at least once. You find that card you're sort of interested in but you see that $3.99 BIN plus $2.99 S&H on eBay and just go "it's not worth it" and leave it.
Sometimes you can justify it by making sure it's a card you absolutely need or by adding more to make the shipping cost worth it (add more to save more). Unfortunately (or fortunately?) the cheapskate/lazy asshole in me just prefers to leave whatever it is that sort of drew my interest rather than take on more and inevitably pay more. That could change if I finally have a steady source of income (although in this/the foreseeable economy I doubt it), but right now these cards remain what I like to call Gray Whales. They're not white whales because they aren't cards that would cost an arm and a leg or have limited print runs. They're in the gray area where I could easily find them, I sort of I want them and in the grand scheme of things they aren't really
that
expensive but yet I have reservations about paying over one dollar. And yes I know this is a #FirstWorldProblem. Everything on this blog is ;).
4 - Joaquin Arias 2003 Just Minors Just Stars Autograph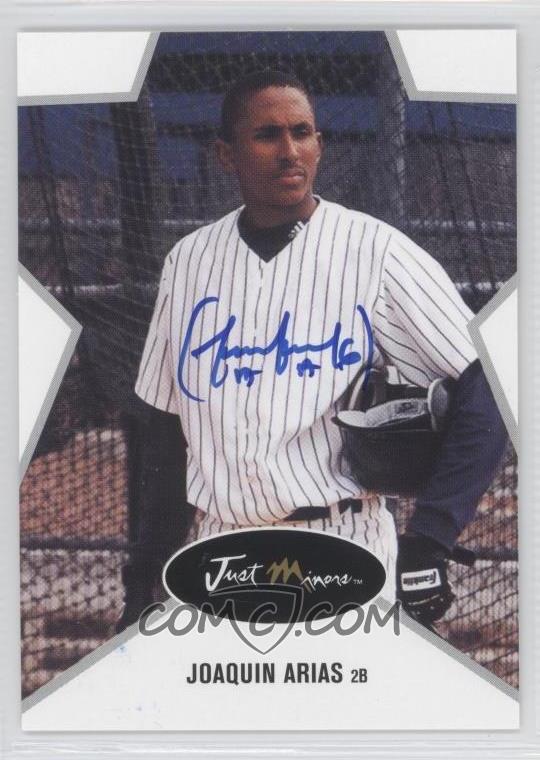 Scan Courtesy of COMC
The thing about the second base prospects the Yankees had in the 2000's is that the one really good second base prospect became pretty much the only Yankees prospect to actually pan out, Robinson Cano. There were other notable second basemen in the org like Corban Joseph and David Adams but I already have Corban Joseph's Bowman Chrome autograph and David Adams unfortunately never got to see a mainstream Bowman Chrome card. That said there was one other notable second base prospect who was briefly in the Yankees org, that man was two time World Series Champion Joaquin Arias. Arias was a top-ish prospect for a brief while before being sent to Texas in the Alex Rodriguez trade, over Robinson Cano, and along with Alfonso Soriano. Now for these Gray Whales I often skew towards Bowman cards from the mid-00's but to my knowledge this JM card is the only card showing Arias as a member of the Yankees. Considering how there are almost no photographs in existence showing Arias in Yankees gear, this card is one I should make more of an effort to obtain, yet I almost never do.
1 - Phil Hughes 2005 Bowman Chrome Autograph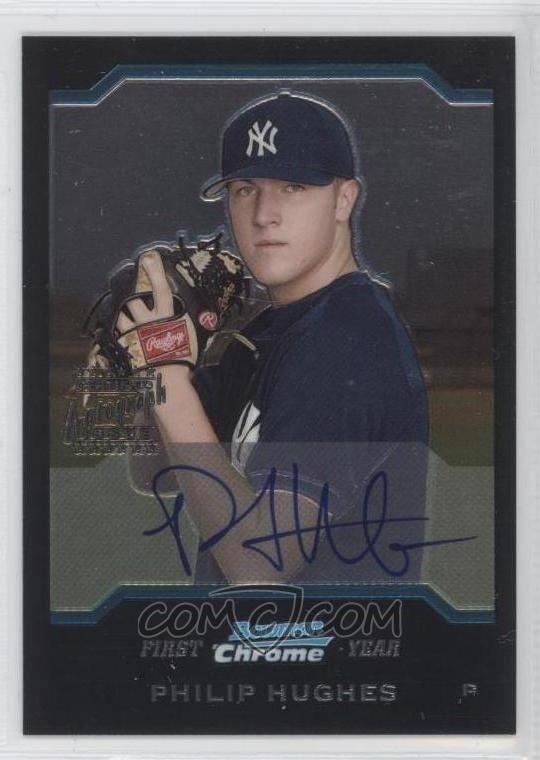 Scan Courtesy of COMC
This card is exactly what inspired this post. I've wanted this Phil Hughes Bowman Chrome auto in my collection for a millennia, yet I've never pulled the trigger. And no, it doesn't have anything to do with Hughes' "legacy" as a Yankee. A lot of cards I want are of players who achieved far less. It has everything to do with how Hughes' BoChro autos are still priced relatively high. The lowest price I can remember in recent memory is $7.00 with free shipping. $7 for a Phil Hughes BoChro is not an amount I'm willing to spend. Especially when the price will drop to $2.50 (shipped) after Hughes retires as a pro and everybody's pipe dream of his cards making them rich is officially over. Until then, I'll scour the bargain bins at the card shows I go to and be happy with the not-BoChro but was still cheap sticker auto from Topps Unique.
Anyway, those were my gray whales. Do you guys have any cards that are easily accessible, cheap and affordable but you just can't pull the trigger?
As always thanks for stopping by and take care :).